I Had a Negative Pregnancy Test but Still Feel Pregnant—Why Does This Happen?
1. The Test Is Done too Early
Pregnancy tests look for the pregnancy hormone HCG. This takes time to build up in the system, if the test is done before there is enough of this hormone, it will be a false negative. This usually happens when women test before they even miss their period. If you wait a few days after you have missed your period, a negative test should not be a false negative given the high sensitivity of the tests.
2. Variations in the Time of Ovulation
If you don't have regular cycles and possibly ovulate late in your cycle, then you may be testing too early. Once in a while, even women with regular cycles can ovulate late in the cycle. Therefore, it could delay the detection of HCG levels. HCG is detectable around 8 days after ovulation but up to two weeks after you conceive. Wait a little while and test again if your period has not started.
3. Miscalculating Your Period
You may get a negative pregnancy test if you are miscalculating your period, especially when you forget the date of your last period. If your partner has healthy sperm and conditions are just right, there is a 3-day window when you can get pregnant around the time of ovulation. You may ovulate, but conception occurred a few days after. If you think you have a negative result due to miscalculation of dates, wait a few days and test again.
4. Diluted Urine When Testing
This happens when the test sample somehow gets diluted, making the testing device fail to pick up the HCG in the blood. If a pregnancy test is negative, it should be followed up by a physical examination and/or ultrasound for confirmation.
5. High-Dose Hook Effect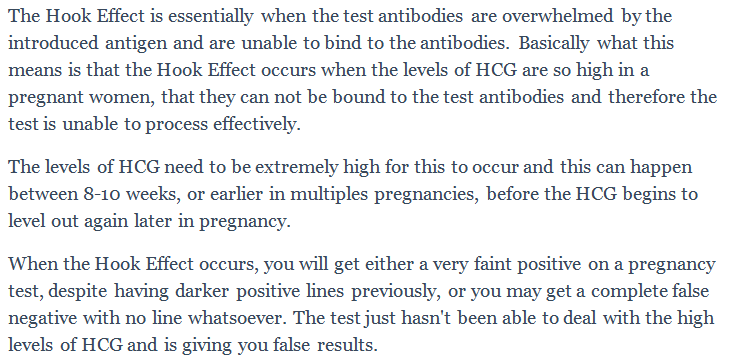 I Had a Negative Pregnancy Test but Still Feel Pregnant—What Should I Do?
So what you can do if you have a negative blood test but still feel pregnant. It really depends on whether you are expecting your cycle or not. There is a 50-50 chance that the test could be false negative if you are not expecting you period. Just wait for a few days to have another test.
You should repeat a test after two to three days if you missed the period several days ago and got a negative test result. However, if your period came and you still feel pregnant, you should wait until several days after the menses to take another test.
It may indicate there are other causes of your missed menses if you got a negative test again. You can repeat the test one more time if you want. But if you get a negative test this time, it almost means for sure that you not pregnant. You may "feel pregnant" for other causes that need you to go to see a doctor. Also, it could be just too hard for you to accept a negative test if you tried really hard to get pregnant.
Personal Experience of Others
You're not alone if you have a negative blood test but still feel pregnant. There are many women that experience pregnancy symptoms but have negative tests. Here are a few cases of women who had negative pregnancy tests, symptoms of pregnancy and then a positive test later on, sometimes much later.
Case 1 "I'm pregnant and have been since the start of June. I took my first blood test on June 23 rd to see if I was pregnant, even though I had my period that month because I had been throwing up for 3 days. But the result was negative.
Then in the middle of July, I started to get sick every single morning. I went to the doctor and he told me I was either pregnant or allergic to something I was eating. Later that night, I took a pregnancy test at home and it was positive. I went back to the doctor (a different doctor) and he did an ultrasound and found out I was pregnant! The period was actually implantation spotting."
Case 2 "I had a positive pregnancy test the week of my missed period. And 8 weeks later, I went to my doctor and took a blood test which came out negative. I had pregnancy symptoms and I could feel my body changing. The doctor had me come back two weeks later and my blood test was finally positive. It took time for my hormones to build up in my body. I knew I was pregnant and I was right! Good luck to everyone and hopefully this will not drive you crazy like it did to me."
It is important to trust your instinct when you think you are pregnant. There are a lot of women that just "know" they are pregnant right from the start. Your friends or family may tell you it is "all in your head", but you know better than anyone else about your body. Most often, women with a strong suspicion of pregnancy turn out to be right!
Blood test negative can I still be pregnant?
A blood test to determine pregnancy is performed by checking if human chorionic gonadotropin (hCG, which is a pregnancy hormone) is present. This hormone is formed by the placenta of a pregnant woman and can be found in the blood as well as urine within 10 days of fertilization. Blood tests are more reliable to an extent that they help detect whether or not the woman is pregnant much earlier as compared to urine or other home pregnancy tests. There are two types of blood tests to determine pregnancy and they are the quantitative blood test and the qualitative blood test. The quantitative blood test not only helps in finding out the presence of hCG in the blood but also helps to know the exact quantity of hCG that is present in the blood. Therefore the results of this test are said to be very accurate. On the other hand, a qualitative blood test only helps to identify whether hCG is present or not. A positive result indicates the woman is pregnant and changes in the level of hCG over a period of time in a normal fashion is a sign that the pregnancy will be healthy. Normally, the hCG levels continue increasing the whole of the first trimester and then slowly start going down. Thus, while in the first trimester, a woman can have her blood test done on a regular basis to ensure that the levels are increasing as desired.
This being a blood test, it is carried out by taking a sample of your blood through the vein or by pricking the tip of your finger with a sharp instrument and this sample is sent to the lab for testing. Even though your blood has tested negative for pregnancy there are chances that you may be pregnant. This could be if your blood test was done too early and so the levels of hCG were not sufficient to confirm pregnancy.. There are also a few diseases related to the liver, cancer or other such conditions that can cause the levels of hCG to raise leading to a false positive report. Sometimes, it may also happen that your blood test is positive but you are not pregnant and this is because of the presence of hCG which may have arisen due to the intake of certain medicines that contain hCG. It would therefore be advisable that you get yourself tested again to confirm the results.
Blood pregnancy test negative can i still be pregnant
If I Have Two Negative Pregnancy Test Can I Still Be Pregnat – Doctor .
Negative Pregnancy Test Again? What do I do? Pregnant Pills
. negative pregnancy test but feeling nausea can i still be pregnant
Friend: Could I still be pregnant? I had a negative pregnancy test .
. got an early negative pregnancy test (BFN), can I still be pregnant
. morning sickness for one day but, test negative on a pregnancy test
Is it Possible to be Pregnant if the Pregnancy Test is Negative?
Can You Get A Negative Pregnancy Test At 4 Weeks And Still Be Pregnant
test com february 17 2011 still using my ovulation tests and pregnancy .
and Negative Pregnancy Test- Could I Still be Pregnant? Pregnancy .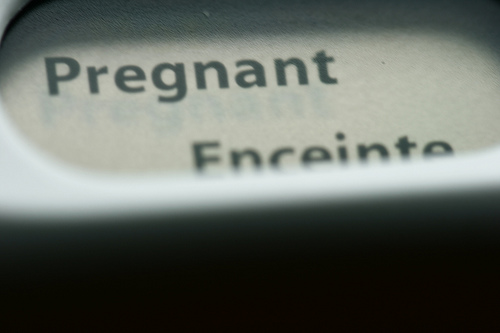 Negative Pregnancy Test Can a Pregnancy Test Be Wrong
did a blood test that was negative still waiting for af so tested this .
NEGATIVE. so I took another pregnancy tests, here is what I got..
If the pregnancy test is negative, can you still be pregnant?
. Negative pregnancy test. A lot of symptoms. Can I still be pregnant
days late all negative pregnancy test can I still be pregnant I am .
Negative Pregnancy Test: Could I Still Be Pregnant?
Can I still be pregnant even though my home pregnancy test was negative?
A repeatedly negative pregnancy test and a missed period typically mean that you are not pregnant. A negative pregnancy test a week or more after your missed period indicates that your chance of being pregnant is less than 1-2%. A positive pregnancy test usually means that you are pregnant.
However, sometimes you can still be pregnant even though you had a negative pregnancy test:
Maybe you miscalculated when your period was due
Maybe you tested too soon and there is not enough hCG (hormone that indicates pregnancy) found when you tested
You may need to wait about a week, and then retest
hCG doubles about every 48 hours in early pregnancy. A home pregnancy test that is negative on Monday could very likely be positive on Wednesday. And if it's positive with first morning urine, later on in the day, when the urine is more diluted, it could test negative. It is also important to remember that despite the advances in urine home pregnancy tests, blood tests are still the best at detecting early pregnancy.
The timing of a positive pregnancy test depends on implantation. If you are pregnant, a urine pregnancy test is not expected to be positive until 3-4 days after implantation (at the very earliest), which is about 10 days after ovulation/fertilization, and 4 days before the next period. About 51% of pregnant women have a positive pregnancy test two days before their next expected period.
Sources:
http://www.newkidscenter.com/Negative-Pregnancy-Test-but-Still-Feel-Pregnant.html
http://www.medicalhealthtests.com/askquestion/200/blood-test-negative-can-i-still-be-pregnant.html
http://krustelphoto.info/16216-negative-pregnancy-test-can-i-still-be-pregnant.html
http://www.babymed.com/pregnancy-testing/negative-home-pregnancy-test-hpt-could-i-still-be-pregnant